About us
Meet the guides who will show you around Krakow.
Krakow is a former royal city. Here, every building or place has its own history. They are also people who created and create the culture and atmosphere of this city.
Our goal is to make your visit to Krakow a real pleasure for you.
To meet the expectations of tourists, both children and adults, we offer a variety of routes. Everyone will find something for themselves – both individual tourists, families and organized groups. We have also prepared routes for school trips and pilgrims.
Qualified guides around Krakow under the license of the Marshal's Office of the Voivodship. Małopolska will do everything to share with you their knowledge and passion for this beautiful city.
We invite you to guided tours around Krakow!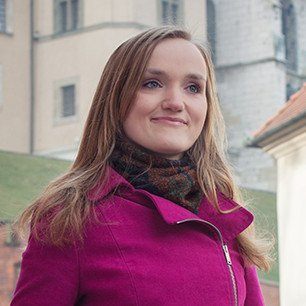 Katarzyna Kos-Maciuk
LICENSED GUIDE
A guide around Krakow and the owner of the KraKkos company. He has been guiding since 2008. An artist and art historian by education. She specializes in guiding English-speaking groups and thematic tours. Authorized to tour the museums of the Underground Market Square and the Schindler's Factory.
Guide ID No. PM / 9/08.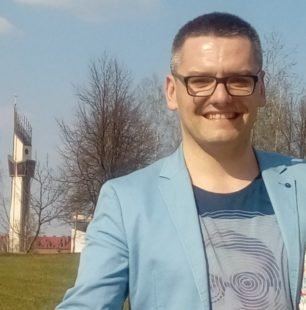 Marcin Maciuk
LICENSED GUIDE
Historian, licensed guide in Krakow, teacher.
He is authorized, inter alia, to tour the Market Underground Museum and the Memorial Route (Schindler's Factory, Apteka pod Orłem, Pomorska Street). 
Guide ID No. 322.
This is what characterizes us
We are fascinated by Krakow and we love what we do. We put a lot of heart and commitment into each trip
We have been guiding around Krakow and its vicinity for over 10 years. We are committed to leadership and have a wide range of contacts you need
Knowledge is the basis of our work. We are substantively prepared and we approach each trip honestly and responsibly
We meet the expectations of our clients and we approach their needs individually. Every trip is different with us
We always try to make the trip interesting and the time spent in Krakow effective
We comprehensively prepare the entire stay in Krakow, we arrange the trip plan so as to make the best use of the sightseeing time
We are positive towards everyone, we love to talk and tell stories and we respect our clients
We are guides full of energy and vigor, positive thinking, good mood and a smile on our face accompany us every day
We are equipped with professional tour guide system, which allows us to serve large groups
Guide that is friendly to foreigners
We serve tourists not only from Poland, but also from abroad. Are you looking for a guide to Krakow in English? We invite you!